Far-right congressman Jair Bolsonaro won the Brazilian presidential election last Sunday in yet another victory for the populist movement upending the liberal international order.
Bolsonaro, a member of the Social Liberty Party, earned fifty-five percent of the popular vote and defeated the Workers' Party's Fernando Haddad, the heir apparent to imprisoned ex-president Luiz Inácio Lula da Silva.
In a victory video posted on his official Facebook account following the results, Bolsonaro announced, "We have everything we need to become a great nation. Together we will change the destiny of Brazil."
Bolsonaro's victory amounts to a dramatic shift to the right for Brazilian politics, which has been dominated by centrists and left-leaning parties since the creation of the New Republic in 1985. Bolsonaro has promised to restore the military to power in his cabinet and has openly advocated for a return to the military dictatorship that ruled Brazil between 1964 and 1985. He's stated he would give the police carte blanche to use lethal force, cancel all funds to NGOs, and strip away workers' rights. He has made dozens of misogynistic and homophobic comments, including wishing his son would die in an accident if he turned out to be gay and telling a reporter she didn't deserve to be raped by him.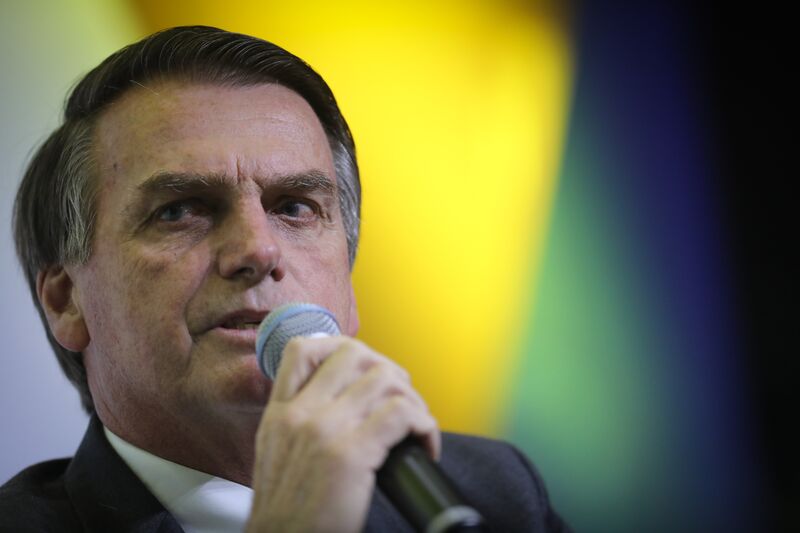 Bolsonaro rises to power in a nation engulfed in chaos. Operation Car Wash, a criminal investigation into Petrobras and their bribes allegedly paid to top politicians in exchange for lucrative contracts, has tarnished the reputation of nearly every major Brazilian party and top politicians, including Lula, who was sentenced to twelve years in prison for corruption as a result of the investigation. Brazil is now in the fourth year of a deep economic recession, with growth stagnant and unemployment above twelve percent. If that weren't enough, 63,880 Brazilians were murdered in 2017, by far the highest number in the nation's history. Only seventeen percent of Brazilians have faith in the national government, down from fifty-one percent in 2007, and Bolsonaro's victory signifies the citizenry may be willing to embrace conservative populism to solve its downward spiral.
Bolsonaro ran a whirlwind campaign, branding himself as an untarnished political outsider ready to crack down on crime by militarizing the police and easing firearm restrictions. Reactions to his candidacy were polarized- hundreds of thousands of Brazilians rallied against him in the #EleNao movement, marching in several major cities in protest of his hateful rhetoric. Bolsonaro was stabbed last month at a campaign event by Adelio Bispo de Oliveira, who claimed to have been sent by God to assassinate him.
International reactions have been mixed. President Trump tweeted a message of support shortly following the result, saying the two leaders have agreed to work together economically and militarily. Many have compared the two leaders, Bolsonaro himself expressing his affinity for the American leader and reveling in the nickname, "Tropical Trump". Media organizations, IGOs, and NGOs have lambasted the president, decrying his victory as a stepping stone to the return of Brazilian fascism. Harvard professor Scott Mainwaring said of Bolsonaro, "I can't think of a more extremist leader in the history of democratic elections in Latin America who has been elected."
Time will tell whether Brazilians chose wisely. Until then, the international community watches with dread and hopes the better angels of democracy prevail.