With irresolute estimations ranging from 400,000 to 6,000,000 service-oriented members in Turkey and abroad beginning from the late 1960s, the Gülen movement (known as Hizmet or "service" in Turkish) has been a conspicuous social movement in promulgating the civic teachings of Fethullah Gülen, who is currently under self-imposed exile after being sought by the Turkish government. The organization, albeit lacking a central ruling body, states its goals as peace, religious toleration, and universal access to education with an emphasis on building secular schools and universities all around the world. However, Turkey's President Recep Tayyip Erdoğan labels it as a terrorist organization designed to disrupt the current governmental apparatus by attempting to form a parallel state structure. The notion stems after the failed coup d'état against Erdoğan and his regime during the summer of 2016 that killed 241 people and left thousands of others injured. Fethullah Gülen vigorously denies any accusations held against him.
After issuing a state of emergency to control the situation, Erdoğan subsequently denounced his former ally Fethullah Gülen and his subscribers for supposedly orchestrating the overthrow of the Turkish government. Consequently, all Gülen-affiliated institutions were forced to shut down in Turkey and neighboring states in an effort to stifle its involvement in important societal functions, a move that prompted thousands of teachers, principals, and influential figures to lose their jobs. His followers (referred to as "Gülenists" by his critics) and other military leaders are still in the process of being purged by the state of Turkey for their involvement in the coup.
For Fethullah Gülen, the movement primarily aims to cultivate a 'golden generation ' of individuals who uniformly support an integration of both spirituality and knowledge to their philosophy and work in tandem to benefit society as a whole. Without a certain requirement or membership to participate in this movement, many subscribe to the ideals of Hizmet by involving themselves in various initiatives that are in line with Gülen's teachings. The diaspora of the movement's adherents throughout the world resulted in the endowment of a network encompassing thousands of educational institutions, dialogue centers, and language schools in various countries of Central Asia, particularly in Kyrgyzstan, Mongolia, and Tajikistan.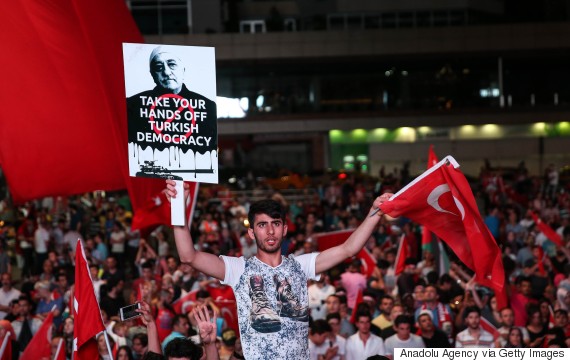 However, Erdoğan's hostility caused many arrests, sackings, and even abductions of Gülen sympathizers both domestically and overseas. Turkey has been urging various countries to shut down Turkish schools for the sake of security and condemning those who fail or reject to do so. A majority of the countries, however, cooperate under pressure as not to sabotage its existing diplomatic relations with Turkey while others remain withstanding. Recently, Moldova deported seven Turkish school staff after the school they were employed at, Liceul Orizont, was reported to be linked to Fethullah Gülen. The staff members had apparently requested asylum in Moldova due to their fear of persecution back in their state of origin. Without a mention that Turkey was involved, the SIS, Moldova's intelligence agency, cited these staff members as a hazard to national security and had them immediately sacked. One could argue that this is a breach of human rights and a violation of the international human rights directives.
For the past two years, Mongolia has been under scrutiny for refusing to meet the demands of Turkish officials who have requested their Gülen-backed schools to permanently cease operations. More than 3,000 students from all segments of society have graduated from these highly-esteemed schools in Mongolia, with many leading successful careers compared to those of who have attended public schools which tend to be underdeveloped and weak. In July 2018, a brief, yet failed, abduction of a Turkish teacher in the capital city Ulaanbaatar attracted the attention of various human rights activists throughout the world.
What all the aforementioned countries have in common is that regardless of what course of action they adopted in response to Turkey's demands, dissent has taken place to disapprove the persecution of educators and shutdown of Gülen-backed schools. Fellow teachers, pupils, and citizens had participated in public protests to demand the release of their respective educators. The question remains for the rest of Central Asia to consider whether to comply with the demands of the Turkish government or refuse in an effort to save their charter schools amid immense foreign pressure to do the opposite.